Locally Owned Document Shredding in Gloucester County NJ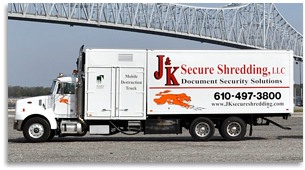 There are many kinds of documents that you might have that need to be destroyed after you have no use for them. These include financial papers and other documents with identifying bits of information on them.
While using your own personal shredder can help you out with destroying such documents, it doesn't take much for anyone to piece a shredded document back together after you take care of it.
Therefore, you need professional help if you want to keep your documents from being stolen.
J&K Gloucester County NJ Shredding Services Works for You
At J & K Shredding, we have been a member in good standing with the National Association of Information Destruction (NAID) for several years. This prestigious association keeps its members current on all the latest trends in document shredding. Gloucester County NJ companies also have the assurance that NAID holds all its members to the highest industry standards.
At J & K, we treat our clients' data as if it were our own. Using our state of the art on-site document destruction equipment - viewable by our clients via closed circuit television if desired -- we take the utmost care in properly disposing of your data, so that your privacy is always protected.
Secure Shredding Services Gloucester County NJ
At J&K, our secure shredding services ensure that businesses are able to keep their documents protected in a secure locking container until the day of the scheduled pickup. While the documents are stored, the containers are locked and only accessible for select company employees and the J&K personnel that handle the account.
Flexible and Easy For Gloucester County NJ Businesses to Afford
At J&K, we accommodate the unique scheduling needs of each client we serve. So when you need to set up document shredding, Gloucester County NJ businesses can place it on a flexible schedule that does not interfere with the way you conduct your business, while continuing the ensure that protecting your data is the top priority. And we offer this flexibility at competitive prices designed to fit any budget.
Other Destruction Services J&K Offers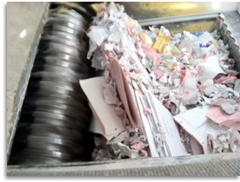 At J&K, we are more than just a document shredding service, Gloucester County NJ companies can partner with us to dispose of virtually any other type of media as well, including:
CDs
DVDs
Audio/Video Tapes
Computer Tape
Desktop/Laptop Computers
Hard Drives
Much more ...
Whatever sensitive data you need to get rid of, you can be assured that we will dispose of it in a confidential and environmentally friendly manner. Whenever possible, we recycle, but our top priority is ensuring that your organization's sensitive data is not compromised.
If your Gloucester County NJ business is in need of secure document shredding or any other kind of data destruction, call J & K today at 610.674.6373 or fill out the form to the right, to request more information or to begin service. We appreciate your business and we look forward to serving you!