Locally Owned Document Shredding in Cumberland County NJ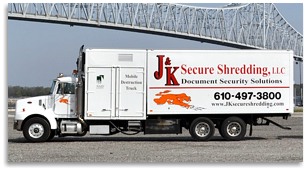 There are many kinds of documents that you might have that need to be destroyed after you have no use for them. These include financial papers and other documents with identifying bits of information on them.
While using your own personal shredder can help you out with destroying such documents, it doesn't take much for anyone to piece a shredded document back together after you take care of it.
Therefore, you need professional help if you want to keep your documents from being stolen.
J&K Cumberland County NJ Shredding Services Works for You
J&K Shredding can help you out with keeping all your documents safe. All of us at J&K will treat the documents that we get from you seriously and make sure that everything is destroyed as soon as the company gets it. In fact, we are so dedicated to proving our work that we offer a CCTV link for people to watch when looking at their old documents being destroyed in a professional environment.
J&K Shredding is a member of the National Association of Information Destruction. This is an organization dedicated to helping document shredding service providers get access to the newest developments in the industry. J&K has been a member of the NAID for years.
Secure Shredding Services Cumberland County NJ
Every step of the process, we go to great lengths to ensure the security of your confidential data. When your documents are waiting to be picked up, they are stored in a secure locking container that can only be accessed by designated company employees and the J&K personnel that are assigned to you.
Flexible and Affordable Shredding Services Cumberland County NJ
J&K understands that every business offers a unique product or service that may not be conducive to a set schedule. Not to worry. When it comes to document shredding, Cumberland County NJ businesses can be assured of receiving the flexibility they need to effectively run their operations while ensuring that their private data is protected. In addition, we run a highly efficient operation that helps us keep costs lower for our clients.
J & K Shredding: Accommodating all your Data Destruction Needs

We at J&K have a wide range of data destruction services that are relevant to whatever you might require. We have services that facilitate the destruction of all forms of electronic media. These include:
CDs
DVDs
Audio/Video Tapes
Computer Tape
Desktop/Laptop Computers
Hard Drives
Much more ...
We also work with the environment in mind. We recycle when we can, but our key focus is always to make sure that the important data you have is fully protected at all times.
If your Cumberland County NJ business is in need of secure document shredding or any other kind of data destruction, call J & K today at 610.674.6373 or fill out the form to the right, to request more information or to begin service. We appreciate your business and we look forward to serving you!